We're well into summer now, and although this is quite an old tag I've always to do it! I wasn't tagged by anyone on my Instagram, but I don't really need an excuse to do it, so here goes:
Show a book with a summery cover
Even though it was probably my least favourite Kate Morton book, I'm choosing The Secret Keeper for this question, because my edition's cover just looks like it captures a perfectly hot summer day – but still with a little bit of the mystery that the book contains…
Pick one fictional place that would be the perfect destination for your summer holiday
It was so hard to pick an answer to this question! My go-to answer for this type of question is usually Hogwarts, but you just can't go there for your summer holiday, so instead I'm picking Diagon Alley! I can stay in the Leaky Cauldron, see the sights, and do all the magical shopping my heart desires.
You're about to go on a flight to your summer holiday, but you want to read a book that lasts for the whole flight, so what novella do you choose?
I'm not actually huge on novellas, so I'd probably just pick a graphic novel (and more likely than not it would be Nimona again).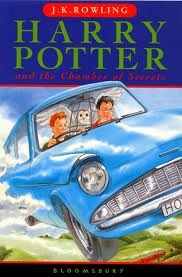 You have a case of summertime sadness; what happy book do you pick up to shine a smile on your face?
I didn't realise how hilarious I found this book until I reread it last year for the first time in ages, but it would be Harry Potter and the Chamber of Secrets, simply because of the masterpiece of a character who is Gilderoy Lockhart. I just love him with all my heart and his presence in this book is what makes it one of my favourites of the series.
You're sitting at the beach all alone … which fictional character would be your beach babe?
I know I'm not alone in my love for him, but I'd have to say Rhysand (specifically as he is in ACOMAF), because he'd be fun to relax with, but snarky enough to keep me entertained!
To match your ice cream you want an icy cool sidekick! Which fictional sidekick do you pick?
This would definitely be Luna Lovegood from the Harry Potter series! She's not so much a sidekick but a main character in her own right, but I just really want to hang out with her and eat ice cream so I'm picking her for this question anyway!