Because in May I only read (shame) one book, I've combined my May and June wrap ups instead. As usual for 2017 I'm still a bit behind for my reading challenge, but as usual I'm still not too bothered about it.
7. A Dark-Adapted Eye by Barbara Vine
Like most families they had their secrets… And they hid them under a genteelly respectable veneer. No onlooker would guess that prim Vera Hillyard and her beautiful, adored younger sister, Eden, were locked in a dark and bitter combat over one of those secrets. England in the fifties was not kind to women who erred, so they had to use every means necessary to keep the truth hidden behind closed doors - even murder. –
Synopsis from Goodreads
This was a bit disappointing. I came up with (what I consider) a better twist than what actually ended up happening, hence the disappointment, the whole thing was a bit of a struggle to get through because of my ongoing reading slump so I did feel a bit robbed by the underwhelming ending. It was no-where near as good as the only other Barbara Vine book I've read,
The Chimney Sweeper's Boy
, but it's not put me off trying other ones of her books.
My main take away from the book is that I hate adults who underestimate or are rude to children, just because they're adults and they 'know better'. Some passages where the narrator is being made to feel stupid by her 'superiors' actually made me a bit anxious, and remember back to when I felt the same, and it made me want to grab the annoying adults by the shoulders and shake some manners into them.
My rating: ★★
8. Through the Woods by Emily Carroll
Journey through the woods in this sinister, compellingly spooky collection that features four brand-new stories and one phenomenally popular tale in print for the first time. These are fairy tales gone seriously wrong, where you can travel to "Our Neighbor's House"—though coming back might be a problem. Or find yourself a young bride in a house that holds a terrible secret in "A Lady's Hands Are Cold." You might try to figure out what is haunting "My Friend Janna," or discover that your brother's fiancée may not be what she seems in "The Nesting Place." And of course you must revisit the horror of "His Face All Red," the breakout webcomic hit that has been gorgeously translated to the printed page.
– Synopsis from Goodreads
It sounds obvious but this book was
super
creepy! Even though I knew it would be, and that's 100% what I was expecting, it still surprised me, and was even creepier than I expected. I also think it's probably the only horror book I've ever read? So I guess that's a bit of a claim to fame within my bookshelves, and my copy has taken up its rightful place in my bookcase.
Each of the five stories was wonderfully spooky, and made me feel half 'too scared to turn the page because this whole thing is
creepy as HELL
' and half 'but I also
need
to find out what happens next!' They also all had subtly different art styles, which I didn't even notice until afterwards (that's what an effortless read this book is!) but which now, looking back, really suited their stories. My favourites were "His Face All Red" (which I'd actually read alone a long while ago and didn't realise was by this author) and the final story "The Nesting Place" which was a bit of a slow burn that kept getting creepier and creepier, and is the one that I think has stuck with me the most since finishing it.
I'd recommend this to anyone who likes horror / ghost / any kind of creepy story, and also to anyone who doesn't (like me) but is willing to give it a go. Similarly, anyone who's read hardly any or no graphic novels at all would definitely enjoy this as much as someone who reads a lot of graphic novels – it's that good!
My rating: ★★★★
9. A Court of Wings and Ruin by Sarah J Maas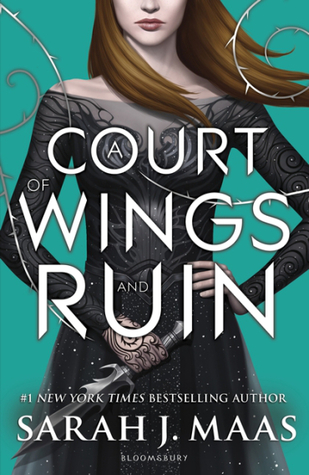 Feyre has returned to the Spring Court, determined to gather information on Tamlin's maneuverings and the invading king threatening to bring Prythian to its knees. But to do so she must play a deadly game of deceit—and one slip may spell doom not only for Feyre, but for her world as well. As war bears down upon them all, Feyre must decide who to trust amongst the dazzling and lethal High Lords—and hunt for allies in unexpected places.
– Synopsis from Goodreads
While this was a good book that I really enjoyed, I'm going to have to echo pretty much every other review of it and say
it just wasn't as good as ACOMAF
. That being said, a
lot
of stuff happens in this book, and it was pretty decent as a finale. (But is it a finale? There are still three other book, but are they spin offs? If so what characters are spinning off? Please not Nesta.)
It was as fun and entertaining as the other two books, but less blissfully aware of its own faults, which actually seems to work against it in some ways. There's been a lot of criticism at the lack of diversity in a fantasy world you'd think would have endless possibilities and not just be full of heterosexual white people, but the attempts to shoehorn in said missing diversity just didn't work for me – and one instance in particular I thought was just
ridiculous
. Really, the series should have just been more diverse from the start (obviously).
The death toll of this book really wasn't what I thought it would be, which left me a little disappointed because honestly I'm just not as huge a fan of the "Inner Circle" as most fans of this series seem to be, and I was annoyed that the one I disliked the most didn't get killed off, which I predicted to happen while reading the start of the book, and was actually looking forward to for the rest of it. I also just could not stand Nesta, try as I might (and I didn't really try because she's still just a mean grumpy brat to me). She had next to no redeeming qualities, and I just didn't care about
anything
she did in this book. Elain fared just a little better (I still think she's annoying and kind of useless, to put it mildly), but it took the other characters an annoyingly long time to figure out what was going on with her, while I thought it was so obvious from the start!
All that negative stuff being said, I
did
enjoy it for what it was. Rhys was as great as ever, as was Amren, and even Feyre was less annoying; I liked the glimpses we got into more of the other Courts; and I just really didn't want to put it down until it was over at last.
My rating: ★★★★