We're well into June now, so (if you live in the northern hemisphere) it's time to start your summer reading! And to fit in with this new season (which, admittedly, has been slightly stop-start in my area) here is a short list of some of my favourite books to read in summer!
Beauty by Robin McKinley
When the family business collapses, Beauty and her two sisters are forced to leave the city and begin a new life in the countryside. However, when their father accepts hospitality from the elusive and magical Beast, he is forced to make a terrible promise - to send one daughter to the Beast's castle, with no guarantee that she will be seen again. Beauty accepts the challenge, and there begins an extraordinary story of magic and love that overcomes all boundaries.
– Synopsis from Goodreads
This retelling of Beauty and the Beast is one of my all-time favourite books. The plot is the same old fairytale we all already know, but the writing is beautiful, the characters are lovely, and there are plenty of little fleshed-out quirks to the story to make it stand out from any other retellings! The author actually wrote another retelling years later called
Rose Daughter
which was
hugely
disappointing, so I would definitely recommend this book to anyone looking for just a lovely fairytale story to read this summer!
The Rosie Project by Graeme Simsion
Love isn't exact science - but no one told Don Tillman. A handsome thirty-nine-year-old geneticist, Don's never had a second date. So he devises The Wife Project, a scientific test to find the perfect partner. Enter Rosie - 'the world's most incompatible woman' - throwing Don's sage, ordered life into chaos. Just what is this unsettling, alien emotion he's feeling?
– Synopsis from Goodreads
I read this book last autumn and really loved it, but if I had to attach it to a season, it would definitely be summer! It's a hilarious and heart-warming romance (one of the rare romantic contemporaries I have read and enjoyed enough to keep on my bookshelves), and is a pretty quick read too!
Cloud Atlas by David Mitchell
The narrators hear their echoes in history and change their destinies in ways great and small, in a study of humanity's dangerous will to power. A reluctant voyager crosses the Pacific in 1850. A disinherited composer gatecrashes in between-wars Belgium. A vanity publisher flees gangland creditors. Others are a journalist in Governor Reagan's California, and genetically-modified dinery server on death-row. Finally, a young Pacific Islander witnesses the nightfall of science and civilization. The narrative then boomerangs back through centuries and space, returning by the same route, in reverse, to its starting point. –
Synopsis from Goodreads
Cloud Atlas
is a huuuuuge book, I admit, but aren't the summer holidays specifically designed for reading said huuuuuge books? That's my argument, at least. This is a fantastic novel I'm never sure if I should class as scifi or fantasy, because it combines the two so effortlessly, and to huge success! There are seven different stories told within the book, moving from the past to the far future, and then back again, and it's quite an intense read, but it's as interesting as it sounds and then some! Even if you don't like one of the seven narratives, you'll for sure love another. (For example, I didn't get along with the very first one, and almost gave up on the book, but I'm so glad I didn't!)
Sofia Khan is Not Obliged by Ayisha Malik
Unlucky in love once again after her possible-marriage-partner-to-be proves a little too close to his parents, Sofia Khan is ready to renounce men for good. Or at least she was, until her boss persuades her to write a tell-all expose about the Muslim dating scene.
As her woes become her work, Sofia must lean on the support of her brilliant friends, baffled colleagues and baffling parents as she goes in search of stories for her book. In amongst the marriage-crazy relatives, racist tube passengers and decidedly odd online daters, could there be a a lingering possibility that she might just be falling in love … ?
– Synopsis from Goodreads
I read this last summer, which was just the perfect season to do so, because this book was an absolute joy to read! I know lots of people turn to contemporaries to read throughout the summer months, so I would strongly suggest you add this book to your tbr pile! It was hilarious (mostly) and heartbreaking (sometimes), and it was fascinating to get an insight into a different culture and a concept that sounds so much like an oxymoron to a lot of people – Muslim dating.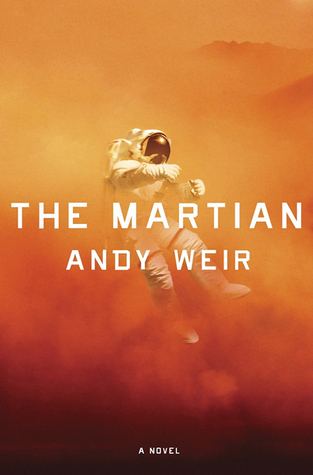 The Martian by Andy Weir
I'm stranded on Mars. I have no way to communicate with Earth. I'm in a Habitat designed to last 31 days. If the Oxygenator breaks down, I'll suffocate. If the Water Reclaimer breaks down, I'll die of thirst. If the Hab breaches, I'll just kind of explode. If none of those things happen, I'll eventually run out of food and starve to death. So yeah. I'm screwed.
- Synopsis from Goodreads
I'm pretty sure everyone and their mum has read
The Martian
, or at least heard of it, but just in case you haven't, you should that it's about an astronaut who's accidentally left behind on Mars, and has to survive until rescue arrives – if it ever will. And the story is as interesting as it sounds! The protagonist, Mark Watney, was so sarcastic but so intelligent at the same time, it was a pleasure reading from his point of view, and his storytelling style was full of actual laugh out loud moments – something all too rare for me! It got a full five out of five stars for me, and even if you've already seen the film, I would
highly
recommend you also give the book a try.