I managed to read 3 books this month (even though, yes, two of them were pretty short) so I'm choosing to believe that soon I'll be out of my ongoing reading slump! I also ended up enjoying all of the books I read this month, another win, so here are the mini-reviews for my three reads of March 2017: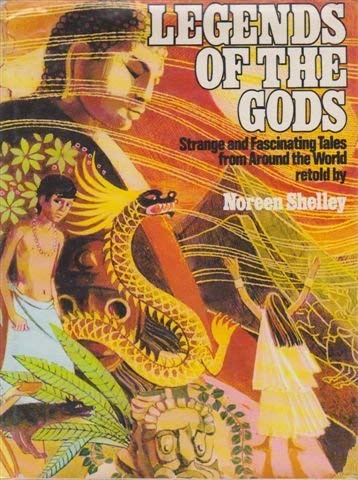 At every age throughout history and in every culture around the globe, man has looked for a god of some kind to bring him comfort, and to help him explain things around him which he cannot otherwise explain. In this carefully chosen selection, Noreen Shelley introduces children to myths and legends to be found in religions of people from other parts of the world and from other points in history. Australia, the most ancient of all continents, England, home of the great sea-god Llyr, India, the Pacific Islands, Alaska – all and many more are represented in this absorbing collection.
This is a lovely collection of short myth retellings, but unfortunately not many of them are all that memorable. I read this less than a month ago, and I can only vaguely remember the stories from Japan, Russia, England, along with a few others. But still, I don't regret reading this book at all; I actually only already knew one of the stories (the one from Ancient Egyptian mythology), so all of them turned out to be really interesting to me, especially for all the ones from the Pacific Islands, whose myths and legends I know almost nothing about! (This book also stands out to me because I am actually the only person to review or even rate it on Goodreads)
Feyre is immortal. After rescuing her lover Tamlin from a wicked Faerie Queen, she returns to the Spring Court possessing the powers of the High Fae. But Feyre cannot forget the terrible deeds she performed to save Tamlin's people - nor the bargain she made with Rhysand, High Lord of the feared Night Court. As Feyre is drawn ever deeper into Rhysand's dark web of politics and passion, war is looming and an evil far greater than any queen threatens to destroy everything Feyre has fought for. She must confront her past, embrace her gifts and decide her fate. She must surrender her heart to heal a world torn in two.
This was a reread designed to pull me the rest of the way out the horrible reading slump that started in December and has been stretching on for months. So it took a while longer than I expected to get through this book for a second time, but I ended up enjoying it almost as much as the first time round! All the things I loved before were great this time too, but I found myself being even more annoyed by the consistent insistence of the author to pair up every single main character into some kind of romance with the opposite sex – God forbid there be anyone who doesn't have a romantic aspect to their storyline, or even (shock horror!) an LGBTQIA+ character!
Cicely Mary Barker's Flower Fairies books, published in the first half of the twentieth century, are known and loved around the world. This book brings together in one volume all the Flower Fairy illustrations and poems, and offers a nostalgic glimpse into the Romantic Age, each illustration suggesting that beyond the natural world so truthfully depicted in her paintings, there might co-exist another, usually invisible, world of the fairies. Contains Flower Fairies of the Spring, Summer, Autumn and Winter, Flower Fairies of the Garden, Trees and Wayside, and A Flower Fairy Alphabet.
This book was also another reread, but it felt very much like a new book to me, because it had been so long since I actually read through some of the poems! Before, I could only remember a handful of the poems – eg. Lily-of-the-Valley, Daffodil (my absolute favourite poem!), Mallow – and it turns out this is because the large majority of the poems are actually terrible. I mean, they're truly awful, with terrible rhyme schemes and structure, and seem like they took about five minutes to write and no-one ever thought to improve them. But having said that, the illustrations (also done by the author) are by far the best and most memorable thing about this book, and the reason it got 4 stars from me on Goodreads despite mostly being utter drivel. Aside from said drivel, my favourite poems were those for the Bird's-Foot-Trefoil, Michaelmas Daisy, Snapdragon, Fumitory, Gorse, and Pansy fairies. There were also several other memorable poems (for very different reasons though) such as: Traveller's Joy, which sounds kind of ridiculous when read aloud, but this did elicit a lot of giggles from us; "Toadflax" sounds like a Harry Potter-esque swear word; and the Nightshade Berry fairy is straight up trying to murder children with his berries!
But my favourite poem of all is still the Song of the Daffodil Fairy:
I'm everybody's darling: the blackbird and starling
Are shouting about me from blossoming boughs;
For I, the Lent Lily, the Daffy-down-dilly,
Have heard through the country the call to arouse.
The orchards are ringing with voices a-singing
The praise of my petticoat, praise of my gown;
The children are playing, and hark! they are saying
That Daffy-down-dilly is come up to town!