Last year I did a post about five of my all time favourite book covers (and you can take a look at it
here
), and it was
so
much fun (and I have so many more books whose covers I want to talk about!) that I'm doing another one, so here are five more of my very favourite book covers:
The Hobbit by JRR Tolkein
The Hobbit
is such a successful book, it's been reprinted about a billion times and so has gone through a huge number of cover changes, but this is what my family's original copy looks like, and (though I'm probably biased) I think it's by far the most beautiful. My first experience of
this novel
was when my dad read it to me and my sister as a bedtime story when we were younger, and I was always obsessed with how pretty this cover is! The blue snow-capped mountains are just so synonymous with the story for me. Our copy is pretty (read:
really really) battered now, with crinkles and wrinkles and curling pages and the front cover is seriously fraying, but I still love it.
The Bone Clocks by David Mitchell
This cover is just stunning – it's just a beautiful mixture of different elements, many of which don't really make sense, or seem like they belong together (a candle, the silhouettes of birds, a golden apple, and an old-fashioned pocket watch?). The level of detail is incredible, and it gives off a kind of dreamy, intriguing vibe, which perfectly fits with the story itself. To be honest, when I first bought this book I barely gave the cover a second glance. It was only once I'd finished this book (and was sitting in tears on my bed in our holiday house) that I gave it a proper look, as I tried to deal with the emotions the ending had just produced within me (there were many, MANY of these emotions). It's a wonderful mixture of science-fiction and fantasy, and its beautiful cover really does do it justice.
This is an absolute stonker of a book (with just over a thousand pages!) and it can't be denied how lovely this cover is! I think the main reason it's one of my favourites because it's so simple. And also, it's so undeniably all about fairy tales! Who else could it be on the cover except Rumpelstiltskin and the miller's daughter? (though I'm still not sure why she's naked...?) But it also incorporates elements from other stories (the roses curling around the spindle, the lost shoe, the keys, the mostly-obscured clock face, and the many tiny hearts hidden in the patterns), which it honestly took me ages to see. It's different to a lot of my other favourite covers, just because it's so simple, but it's this simplicity which it allows it to be so striking and memorable.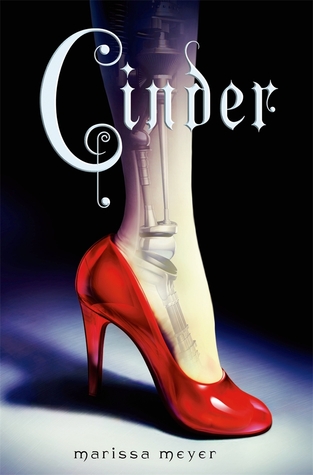 This cover art is just plain cool. Cinder is the first of the Lunar Chronicles, each book of which is a futuristic re-telling of a fairytale, and (obviously) this first book is a reimagining of Cinderella. The twist is that she's a cyborg, and actually wears a prosthetic leg, which makes this gorgeous make sense. Again (just like with The Bone Clocks), it took me longer than it should have to understand why the foot on the cover has metal bones, because I just assumed it was to with the whole Cinderella / lost shoe mythology. But this cover is able to give off equal "wonderful-fairytale-Cinderella-oh-a-beautiful-shoe-how-lovely" and "science-fiction-futuristic-kind-of-dystopian-cyborg" vibes, and so perfectly captures what the book's really about!
I feel really lucky that I own the UK edition of this book, because the original US cover is just kind of terrible in comparison. And honestly, I think my love for this version is enhanced by how much I loved the novel itself! The motif of a hand holding a heart appears in the story, so I love that it's on the cover too! This whole design is bold and striking, and the blue / turquoise / green colours look so lovely together. I also love the level of detail that's gone into all the objects that make up the heart itself! (Lots of them are clues to aspects of the plot, too.) And not saying that I have, but if I wanted to, I could probably spend a while just pouring over this one cover.