My reading tends to drop off towards the end of the year, mostly because it's still near the start of the academic year and I'm feeling a bit overwhelmed. This November was even worse than normal, because I'm studying abroad in Germany and, to be honest, hating it. Then there was the added pressure of deciding to move out of the house where I'd been miserably living for a month, finding a new place to live, worrying if it was a scam, discovering it wasn't, and finally signing the new contract and handing in my notice to my current landlady. But despite all this I managed to finish two books:
39. A Study in Charlotte – Brittany Cavallaro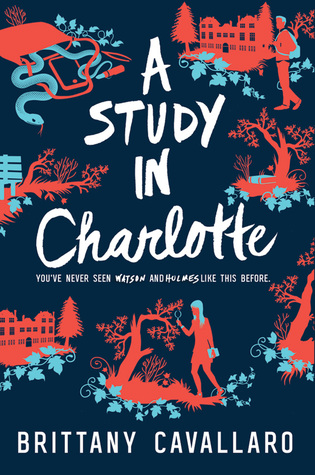 The last thing Jamie Watson wants is a rugby scholarship to Sherringford, a Connecticut prep school just an hour away from his estranged father. But that's not the only complication: Sherringford is also home to Charlotte Holmes, the famous detective's great-great-great-granddaughter, who has inherited not only Sherlock's genius but also his volatile temperament. From everything Jamie has heard about Charlotte, it seems safer to admire her from afar. When a Sherringford student dies under suspicious circumstances, ripped straight from the most terrifying of the Sherlock Holmes stories, Jamie can no longer afford to keep his distance. Jamie and Charlotte are being framed for murder, and only Charlotte can clear their names. But danger is mounting and nowhere is safe—and the only people they can trust are each other.
This book was hugely disappointing. I did not like it. I thought it was pretty bad, which was a shame because I had been looking forward to reading it ever since I first heard about it, and I was expecting it to be a fun and exciting YA Holmes and Watson retelling. Unfortunately, I hated all the characters, thought the writing was kind of terrible, and found the mystery itself all kinds of awful.
The two main characters are 1) James "Jamie" Watson (who is too wet to tell people he actually hates the name Jamie, has no actual personality, and whose infatuation with Charlotte Holmes doesn't even qualify as insta-love because he's actually been obsessed with her for years before they even meet), and 2) Charlotte Holmes (who I had high hopes for, because let's face it any iteration of Sherlock Holmes is bound to be pretty cool, but Charlotte proved to be the exception to this, and turned out to just be selfish and infuriating and not in an enigmatic or admirable way). I felt like the relationship between the two of them just went from zero to a hundred without any warning, and because of this, the whole thing felt very forced. The author kept repeating how close they were, and how unusual this was, but I couldn't actually find any proof for this other than the fact we were told it over and over again.
In fact, this was a common motif in the writing; the author just tells the reader things instead of actually demonstrating them through the characters' actions or conversations. In a few sentences, we're supposed to believe that Jamie and Charlotte are suddenly spending all their time glued to each other's side, and are now best friends – the only problem was nothing actually happened.
The mystery itself also annoyed me. I kept switching between thinking "Is she trying to make it really obvious who we should suspect so she can put in a twist at the last second that we'll never see coming?" and "Or is she in fact just a bad enough writer to make it incredibly obvious who the murderer is just 20% into the book?" Sadly, the answer was the latter. This book was a waste of time, and a huge let down.
I would recommend it if:
- you're obsessed with Sherlock Holmes and want to consume every piece of related fiction under the sun, regardless of if it's actually any good
- you've already read something by Brittany Cavallaro and know you like her writing style
I would steer clear if:
- you've read anything that you considered a good murder mystery, because this one will certainly let you down in comparison
- you hate insta-love, or, as in this case, pre-insta-love
- whiny teenage characters with 2% of a personality that will get on your nerves
My rating: ★
40. The Rosie Project – Graeme Simsion
Love isn't exact science - but no one told Don Tillman. A handsome thirty-nine-year-old geneticist, Don's never had a second date. So he devises The Wife Project, a scientific test to find the perfect partner. Enter Rosie - 'the world's most incompatible woman' - throwing Don's sage, ordered life into chaos. Just what is this unsettling, alien emotion he's feeling?
I thought this book was a lovely, sweet romance between two very unlikely characters, which really served to cheer me up during a period I was feeling really low and miserable. It tells the story of Don Tillman, who's so far had exactly no luck in love, and so sets up "The Wife Project" to find someone he can settle down with. It was equal parts interesting and charming to see how he tries to work as rationally and sensibly as possible to find the ideal partner, and like many previous readers, (if the Goodreads reviews can be trusted) I am now a huge Don Tillman fan.
I honestly can't remember the last time I read a proper contemporary, romance novel, but I thought this book was great! (even if a little outside my comfort zone) It was also unexpectedly funny, and there were plenty of times when I giggled out loud – and that doesn't happen often. I also think this book is the first I've ever read that's set in Australia?
I would recommend it if:
- you like love stories between two opposite personality types
- you want something fast-paced and witty, but also surprisingly emotional
- you have a soft spot for characters that are continually bamboozled by pointless social conventions
I would steer clear if:
- you don't like romance
- you want a love story with a bit more angst and mutual suffering
- you have an irrational fear of all things Australian
My rating: ★★★★