I would say this is a combined reading wrap up for April and May, except that I actually finished no books in April. But anyway, books
#10
,
#11
,
#12
,
#13
,
#14
,
#15
and
#16
:
10. An Astronaut's Guide to Life of Earth by Chris Hadfield
Colonel Chris Hadfield has spent decades training as an astronaut and has logged nearly 4000 hours in space. During this time he has broken into a Space Station with a Swiss army knife, disposed of a live snake while piloting a plane, and been temporarily blinded while clinging to the exterior of an orbiting spacecraft. The secret to Col. Hadfield's success-and survival-is an unconventional philosophy he learned at NASA: prepare for the worst-and enjoy every moment of it.
You might never be able to build a robot, pilot a spacecraft, make a music video or perform basic surgery in zero gravity like Col. Hadfield. But his vivid and refreshing insights will teach you how to think like an astronaut, and will change, completely, the way you view life on Earth-especially your own.
Even though the title blatantly says what this book is about, I thought it would be a straight forward autobiography, so I was a little confused when after only 20 pages it seemed like he'd already described the entirety of his life so far. Instead, it's more like actual advice and life lessons, coupled with a tonne of relevant, personal anecdotes from his time in space (and on the ground).
It was actually really interesting, once I got over my slight annoyance at its structure (because it's not really chronological it was a little confusing jumping backwards and forwards in time for each new anecdote). I love space and science-fiction in general, and this book did actually make me start wondering about becoming an astronaut (sadly, this is very unlikely).
There's a lovely description of his reaction to seeing Earth and the galaxy during his first space walk that I had to pick out: "It's like being engrossed in cleaning a pane of glass, then you look over your shoulder and realize you're hanging off the side of the Empire State Building, Manhattan sprawled vividly beneath and around you." Really this book just made me more obsessed with space than I was before.
Rating:
★
★
★
11. Silent in the Grave by Deanna Raybourn
"LET THE WICKED BE ASHAMED, AND LET THEM BE SILENT IN THE GRAVE." These ominous words, slashed from the pages of a book of Psalms, are the last threat that the darling of London society, Sir Edward Grey, receives from his killer. Before he can show them to Nicholas Brisbane, the private inquiry agent he has retained for his protection, Sir Edward dies.
Determined to bring her husband's murderer to justice, Julia engages the enigmatic Brisbane to help her investigate Edward's demise. Dismissing his warnings that the investigation will be difficult, if not impossible, Julia presses forward, following a trail of clues that lead her to even more unpleasant truths, and ever closer to a killer who waits expectantly for her arrival.
I was in a month long reading-slump when I read this, and was just looking for something quick, easy and fun, and let me just say this book delivered. It was fluffy and more than a bit ridiculous, but exactly what I needed. There was a nice amount of intrigue, a slow burning and slightly angsty romance, and some fun characters. Lady Julia Grey was fun, stubborn and strong-willed without being (in my opinion) too annoying, and she was by no means a shrinking violet. It's by no means great literature, but if you're in the mood for it (as I was) it's really very enjoyable (and also a pretty quick read). I read the first three books of the series in quick succession, and I still think this one had the best reveal to the mystery of the three.
Rating:
★
★
★
★
12. Silent in the Sanctuary by Deanna Raybourn
Fresh from a six-month sojourn in Italy, Lady Julia returns home to Sussex to find her father's estate crowded with family and friends — and much to her surprise, the one man she had hoped to forget — the enigmatic and compelling Nicholas Brisbane—is among her father's houseguests. But dark deeds are afoot at the deconsecrated abbey, and when one of the guests is found brutally murdered in the chapel, a member of Lady Julia's own family confesses to the crime. Certain of her cousin's innocence, Lady Julia resumes her unlikely and deliciously intriguing partnership with Nicholas Brisbane, setting out to unravel a tangle of deceit before the killer can strike again.
I found this book very similar to the first in the series: slightly fluffy and ridiculous, but a fun read – even if the conclusion was a little bit of a let-down in comparison to the first. You also get to meet a lot more of Julia's family, which I thought was nice and pretty fun. There were also plenty of lovely funny moments that made me giggle aloud (a rare feat, in my experience).
In Grimsgrave Hall, enigmatic Nicholas Brisbane has inherited a ruined estate, replete with uncanny tenants and one unwanted houseguest: Lady Julia Grey. Cloistered together, they share the moldering house with the proud but impoverished remnants of an ancient family: the sort that keeps their bloodline pure and their secrets close. A mystery unfolds from the rotten heart of Grimsgrave, one Lady Julia may have to solve alone, as Brisbane appears inextricably tangled in its heinous twists and turns. But blood will out, and before spring touches the craggy northern landscape, Lady Julia will have uncovered a Gypsy witch, a dark rider and a long-buried legacy of malevolence and evil.
After being ever so slightly disappointed by the second book, the third was maybe my favourite of the three (or it's at least tied with the first). It was a lot more concentrated on Nicholas and Julia, and their relationship, than the first two, and I liked this a lot.
Julia's sister, Portia, who I'd liked until then, became a little needlessly annoying in this book which was a little disappointing. But I loved the ending so much. I was so into it and everything that was happening, that I was smiling like an idiot while reading those last few pages. It was exactly the ending I was hoping for – and there's still another three books in the series for me to get to!
Midsummer in Victorian England—an auspicious time for a wedding. Combine the close-knit chaos of village life, pagan traditions bursting through staid Victorian conventions, and the congenial madness that tends to swirl around Lady Julia's family and you get an unforgettable wedding. But add in a dangerous past nemesis who has come to wish them not-so-well, and their day to remember just might take a fatal turn.
The final adventure of Julia and Nicholas that I read in practically one sitting was this really short novella set after the third book. To be honest, it was a bit of a let-down, especially after how much I loved the ending of book three. The mystery was pretty much non-existent, the ending was a completely anti-climactic, and I didn't like how the author tried to make unsympathetic characters suddenly redeemable – that just didn't do it for me.
On another note: I really hate the cover. The previous three had editions that made them look a little less ridiculous, but this one it's a women in a corset or nothing. I think the point of the novella was just to spend a little more time with the characters, but I kind of wish I'd just left that to the imagination.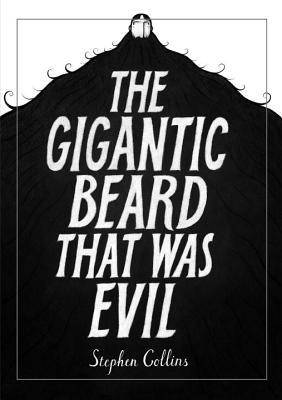 On the buttoned-down island of Here, all is well. By which we mean: orderly, neat, contained and, moreover, beardless. Or at least it is until one famous day, when Dave, bald but for a single hair, finds himself assailed by a terrifying, unstoppable ... monster!
Where did it come from? How should the islanders deal with it? And what, most importantly, are they going to do with Dave? The Gigantic Beard That Was Evil is an off-beat fable worthy of Roald Dahl. It is about life, death and the meaning of beards.
I was looking forward to reading this ever since I heard the title – I mean come on, it sounds great! I ended up liking it, but still being a bit disappointed, as I thought it was going to be a lot better. Even for a graphic novel, it was a very quick read. I already get through books pretty fast, but this was just ridiculous. Often there would be so few panels on a page that it would take literally .5 seconds to read, and eventually I was just turning page after page without pausing because that's how quick it was going by.
Liked the art style and the books overall message (even though it was slightly heavy handed), but the ending itself left me a little confused. I wasn't sure if it was meant to be sad, bittersweet, mysterious, threatening, depressing or something else. When I texted my sister to ask her what she thought, she couldn't even remember, which maybe doesn't bode so well for the book. But overall I would say it's worth reading (mainly because it took me 15 minutes).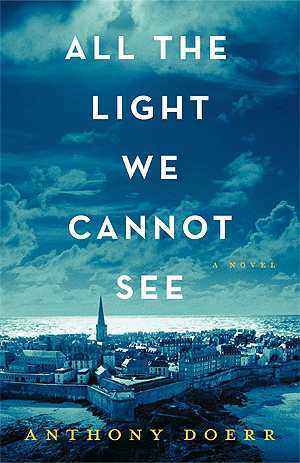 Marie-Laure lives with her father in Paris near the Museum of Natural History, where he works as the master of its thousands of locks. When she is six, Marie-Laure goes blind and her father builds a perfect miniature of their neighborhood so she can memorize it and navigate her way home. When she is twelve, the Nazis occupy Paris and father and daughter flee to the walled citadel where Marie-Laure's reclusive great-uncle lives.
In a mining town in Germany, the orphan Werner grows up with his younger sister, enchanted by a radio they find. Werner becomes an expert at building and fixing these crucial new instruments, a talent that wins him a place at a brutal academy for Hitler Youth, then a special assignment to track the resistance. More and more aware of the human cost of his intelligence, Werner travels through the heart of the war and, finally, into Saint-Malo, where his story and Marie-Laure's converge.
This was a truly amazing book, and the third 5 star rating that I've doled out this year. I was expecting to enjoy it, I was expecting to think it was pretty good, but I was not expecting it to kick me in the heart in quite the manner it did.
The writing style was exquisite, and for once I actually thought to myself Wow, I love how this is written which happens in about 2% of cases. I absolutely raced through it ; the chapters were so short – the longest I think was 5 pages? – so the moment you finish one you want (no: need) to read another. When reading it all you can think was Just one more. Ok, just the next one. Actually I have to read just one more and so on until you've finished it and are sitting in a pool of your own tears.
The two main characters (Werner and Marie-Laure) were great, though I think I may slightly prefer Werner, the plot was fantastic, and the entire book just had this particular atmosphere to it that I loved; it starts off quite innocently with the characters, but we know exactly where it's going, and then it becomes so bleak and depressing but in a beautifully miserable way.
I finished this book on the train back to university and had to actively stop myself from starting to cry because I was in public and there were people sitting all around me – but it was hard.